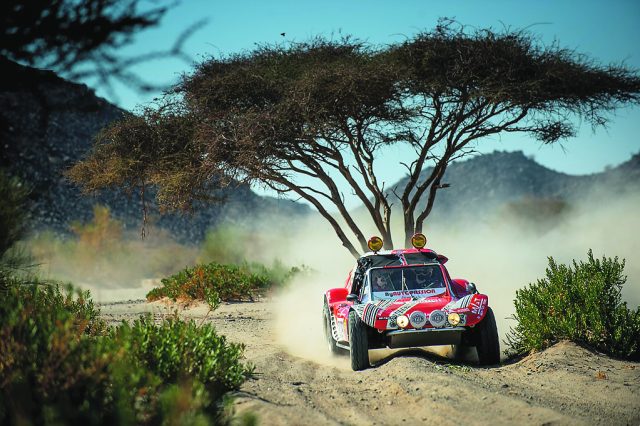 Winner of the first Dakar Classic last year with a 1979 Sunhill buggy, Marc Douton (48) returns to the Saudi desert tracks behind the wheel of a fully restored 1986 Porsche 911.
8,375 km including 4,258 km of special stages spread over twelve stages. This is the copious menu that the 144 Dakar Classic crews will have to swallow from today (editor's note: Saturday January 1, 2022) in Saudi Arabia. Marc Douton will be part of the adventure with the label of man to beat. Installed in Saint-Chéron for a few months, this technical support engineer on Dassault Aviation Falcons won, last year, the first edition of this "retro Dakar" at the wheel of a Sunhill buggy – named after his creator – who competed in the first Paris-Dakar in 1979. " When we bought the buggy with my co-pilot, Emilien Etienne, it was a wreck. We entrusted its restoration to Jérémy Athimon, the manager of the Nantes Prestige Autos garage. It took 700 hours of work to rebuild it and make it fully reliable. ", Recalls Marc Douton (48 years old), who did not experience any mechanical problems during the two weeks of the race:" Not even a puncture or silting up. It was almost a vacation after what we experienced in the months leading up to the event. "
A race based on regularity
Between the search for sponsors in the midst of the Covid pandemic while he lives in Mombay (India) 6,000 km from France, the threats of cancellation of the event at the last minute and a small bodily accident the day before the start, Marc Douton believed he could not compete in this first Dakar Classic. A race based on regularity, with a little navigation, which takes place in parallel with the flagship event in which only vehicles – cars and trucks – having already participated in the Dakar before 2000 are allowed. Lada Niva, Mitsubishi Pajero, Range Rover, Toyota Land Cruiser, Mercedes and Porsche 911 two-wheel drive like the one Marc Douton will drive alongside his new co-driver Jérémy Athimon. But the NPA – Wurth Modyf crew, who will wear the number 700 on Saturday from Jeddah, are well aware that it will be difficult to repeat last year's performance. Competition will be stronger with the presence of 144 vehicles, against 24 in 2021, some of which have won the Dakar. " We go there to have fun without hurting ourselves and we hope to see the end », Confides Marc Douton. Arrival is scheduled for January 14 on the shores of the Red Sea.
Aymeric Fourel
• Follow Crew # 700 on Instagram: @npa_wurth_modyf
• Find the full article in Le Républicain of December 30, 2021