On November 9, 1943, the Belgian resistance achieved the most daring blow in the history of the underground press. It broadcasts, in the face and beard of the Nazi occupier, a pastiche of 'Soir volé', the Belgian daily confiscated from its owners by the Propaganda Abteilung, which had also replaced its pre-war journalists with a composed editorial staff. zealots of the New Order. The authors Denis Lapière and Christian Durieux come back in comics on the history of this 'Faux Soir'.
50,000 copies of this Faux Soir will be distributed, in the normal circuit or by the clandestine circuits, at 10 francs each, in order to finance the Front d'Independence. the Faux Soir makes a fool of the German occupiers. On November 9, 1943, the great burst of laughter that roamed occupied Belgium was heard even in the Allied capitals, London and Washington. If Le Faux Soir is an illustration of the Brussels zwanze, it is above all an act of bravery and resistance that earned its authors death or imprisonment. This fascinating story questions the power of words and satire as a weapon of resistance against all oppression.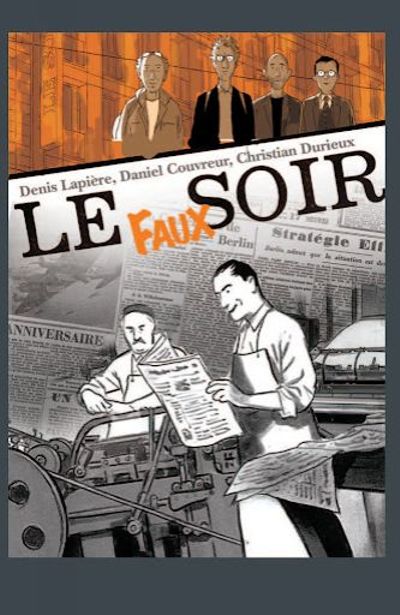 Thanks to their collaboration with the journalist du Soir Daniel Roofer, writers Denis Lapière and Christian Durieux had access to numerous Le Soir archives, including writings by the protagonists who lived through this story and were able to get out of it. They are very moving because they reveal their humanity, their desires, their doubts.
The comics 'The False Evening' is published by Editions Futuropolis,
accompanied by the facsimile
of this famous Faux Soir of November 9, 1943.
When the occupant is ridiculed
In 1943, Brussels was occupied. Le Soir is no longer Le Soir, it is 'nested'. The underground press is very active, but how to reach as many people as possible? How to fight on equal terms against the occupier's press? It is about fighting without physical weapons, just fighting with the press and with laughter to humiliate the enemy. And we know that humiliation is a terrible weapon…
50,000 copies of Ce Faux Soir were therefore distributed very early on November 9, 1943, much earlier than Le Soir volé. All the articles were written in 3 days, by feverish illegals. They are pastiches of the German occupier and Rexists, ridiculed even in the classifieds and comics.
It is an incredible document. You have to read the comics, but you also have to read the newspaper articles. Because there is a quality of writing, there is a literary urge behind it. It's not just having fun. Everyone really did a real job in this journal. And in our work together, we wanted to be at their level, we also wanted to have a quality of writing, out of respect for their work.
A comic strip on two levels
The authors have chosen to include the comic in two eras:
She tells the closest to the truth how, by a thousand ways, we put cogs in place to manufacture and distribute this Faux Soir, so that the buyers and the occupant see nothing but fire. So we had to go and steal typography from a printing house, we had to find paper, at a time when it was very expensive. It shows, almost from day to day, how one sets up such a hoax in such circumstances, with such risks. And we see that very different people took part in this adventure: lawyers or judges, pastors, writers …
It stages, on a second level, the authors who set off, full of innocence, to discover this story with wonder and passion and who, at the same time, put it into perspective. Because even today, in the world, there are people who resist by laughing, whether it is the cartoonists and cartoonists in prison in Algeria, or the Charlie Hebdo team which dies under the bullets of terrorism.
What is the Front for Independence?
This Front for Independence was a resistance front, unarmed, which produced publications (50 newspapers, leaflets…) and which collected money to help resistance fighters who went underground, and therefore without income. The Front managed to make them invisible and allow them to continue to live. Everyone who worked on this Faux Soir was illegal, except the printer. They all knew they were taking incredible risks.
This adventure will be followed by very serious consequences. About ten people will be deported and tortured; some will not come back or will come back greatly diminished.
After all the care, all the energy, all the precautions taken in the preparation of this Faux Soir, it is a small detail, a small error, which will have precipitated their fall … to discover in thea comic 'The False Evening'.
Listen to the authors here in Come in without knocking