Blois (41) Six months from the opening, the Michelin-starred chef shares what prompted him to embark on this major project. Financial arrangement, motivations, inspirations: he tells.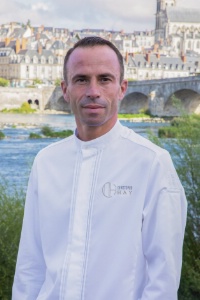 The health crisis did not stop his project. Since 2018, Christophe Hay wants to move, to see bigger. While he just got his second star Michelin at the House next door, in Montlivault (Loir-et-Cher), a gourmet restaurant with a bistro and a dozen rooms, he is approached by the investor Yvan Saumet. This offers the chef the opportunity to transform the former property of Louis XIII's brother, which became a hospital, then a hospice, into a 5-star hotel with 44 rooms with two restaurants, a pastry shop and a spa. All in Blois (Loir-et-Cher), on the banks of the Loire and facing the royal castle. The chef invests € 7 million to become the owner of the business and manage the layout and decoration. The investor, for his part, pays 15 M € for the rehabilitation work of the 5,000 m building.2 dating from the XVIIe century. The town hall is delighted, because the project, baptized Fleur de Loire, should help revitalize the Vienne district, where it is located, but also revive market garden lands on a hectare and a half, in the city center. A challenge which does not prevent Christophe Hay from "Sleep well at night". Six months from the opening, he is no more dizzy than when he created La Maison d'à Côté in 2014, putting his savings into play and not paying for the first year.
Towards a third star
What he liked about Fleur de Loire was the continuity of what he set up in Montlivault. Namely the work of freshwater fish, fruits and vegetables from a nearby vegetable garden, herbs and flowers from the surrounding nature. Because the Loire and its territories remain the primary sources of inspiration for this Vendômois, spotted when he left the hotel school in Blois by the starred chef. Eric Reithler, then by Paul Bocuse who will entrust him with his Bistro de Paris, in Orlando, Florida. Ambitious while keeping their feet on the ground, "Living soils" where he likes to see worms and earthworms busy, Christophe Hay is now aiming for a third star in a new house he wants "place of life". A house that he also wants to be committed to sustainable, reasonable and local heritage. He will thus create an apple conservatory and another dedicated to asparagus, "With around fifty different varieties". His last service at Montlivault is scheduled for May 2 and his first at Fleur de Loire on June 13, "the day of [s]are 45 years old ".