January 13, 2022 at 6:55 am by Mathieu Message
During the renovation of the cathedral, "Éternelle Notre-Dame" offers an immersive visit in virtual reality. A visit that is not quite classic since it will take you on a journey to every nook and cranny of this emblematic place, but above all in time!
Are you ready to live a unique and exciting adventure through time and space ? This is what offers "Eternal Notre-Dame", a technological challenge that plunges the public into the heart of the history of the cathedral, from its construction in the Middle Ages to the current restoration site. Started by Orange and Amaclio Productions, this experience in virtual reality comes to fill a void during the restoration of the cathedral Notre Dame of Paris.
Notre-Dame, as if you were there
"Eternal Notre-Dame" is the name given to this immersive experience. While the famous cathedral is recovering from the fire that ravaged it in April 2019, several patrons and creators have decided to offer a virtual reality tour. This visit will therefore be open to the public from Saturday January 15 at 2 p.m. For now, go below the Grande Arche de la Défense, before a trip to the Conciergerie in March and an arrival under the forecourt of Notre-Dame after the summer.
This installation is an original way to discover or rdiscover this emblematic monument during its renovation period, but above all to see it at different times. An initiatory and above all very realistic journey, intended for the whole family.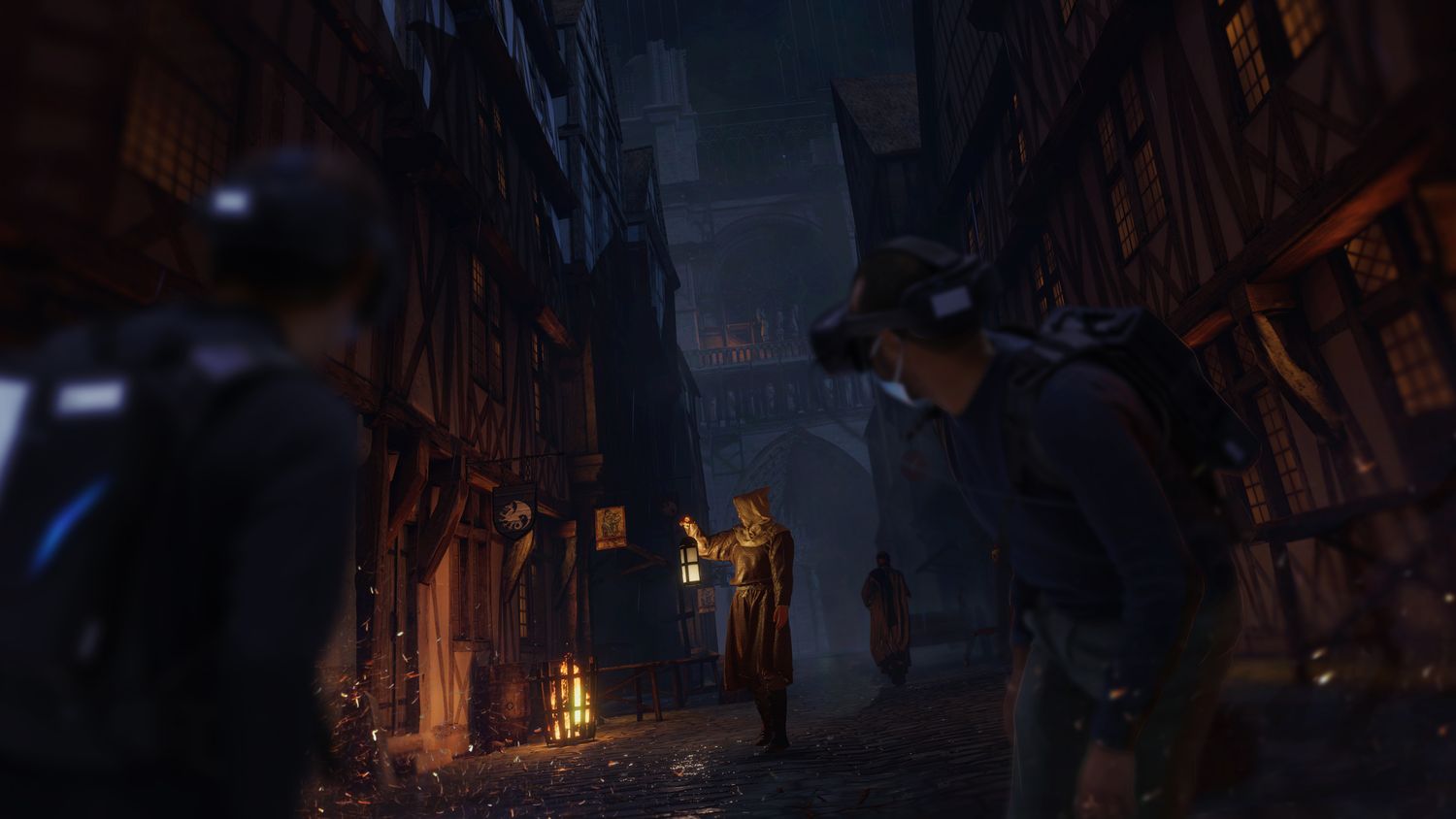 Notre-Dame reconstructed in virtual reality in medieval Paris.
Credit: Emissive
An impressive play of lights and atmospheres!
For nearly 45 minutes, "Eternal Notre-Dame" invites you to discover the secrets of the cathedral! From the first stones laid to its renovation, you follow a companion of duty which explains the different milestones in the history of Notre-Dame de Paris.
Ludovic Marguerie is game designer, and realized the different elements of this environment :"The idea is to relive 800 years of history, but also of evolution. So we see master glassmakers, carpenters, scaffolders, already present at the time. We are completely immersed in this medieval site, then we discover the other sites, as in the 19th and 21st centuries. centuries."
The best 3d tools were used by the start-up Emissive, which is not at its first attempt since they have already carried out similar experiments for the pyramid of Cheops or the cave of Lascaux. This virtual reality visit turns in particular on high performance engines like Unity or Unreal Engine 5, equipped with the latest HTC Vive headsets.
And for this experience to be lived as an adventure, it is Bruno Seillier who took care of staging : "I thought I knew Notre-Dame, but to realize this project, I had to read a lot and I discovered new things! On lives thephysical experience … at the same time it is learn while having fun, but people don't have the feeling of learning, they are especially in a discovery. Sometimes it takes a little virtual reality to find out how much reality is beautiful."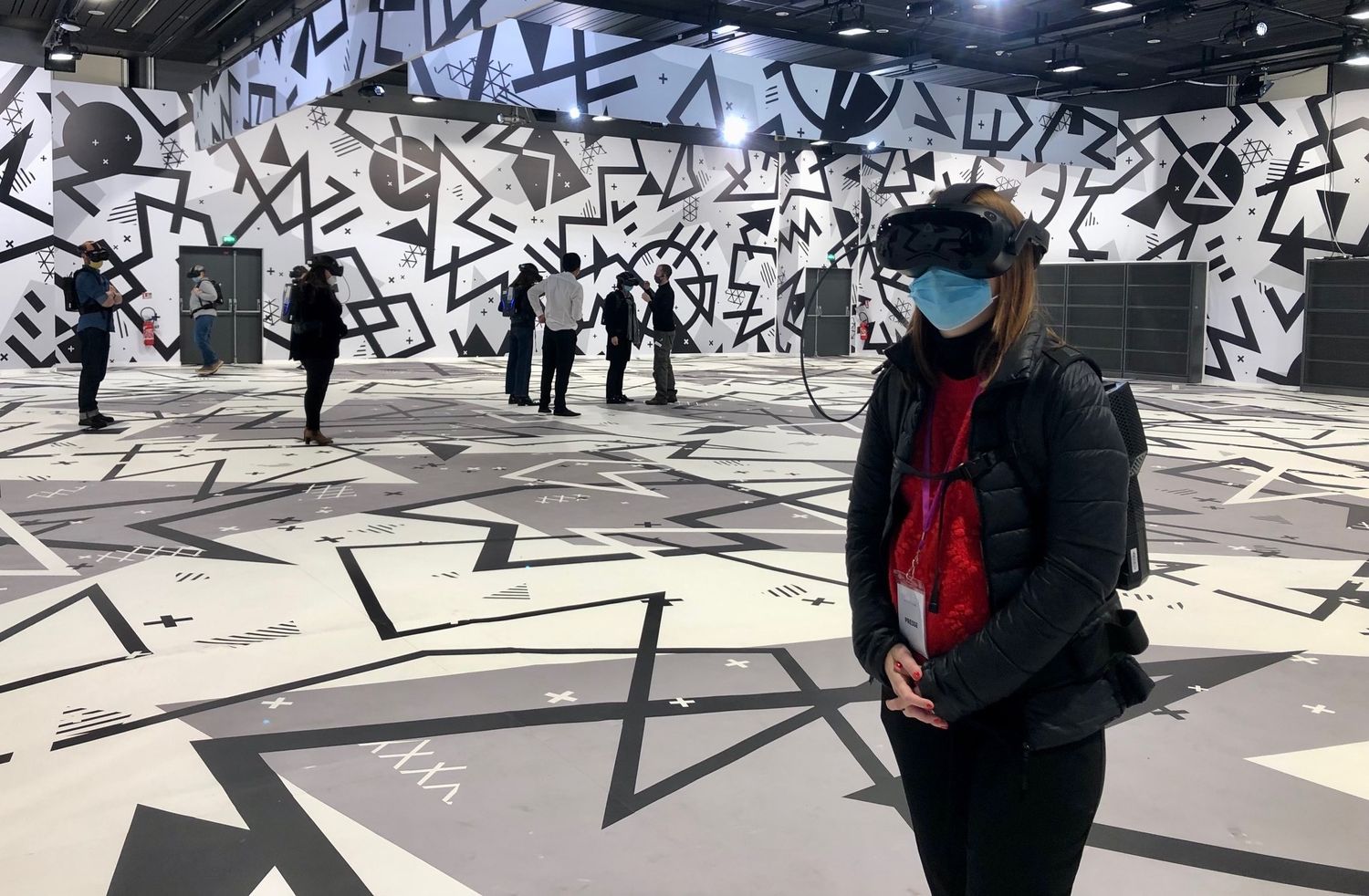 A space of 500 m2 is made available to visitors to discover the nooks and crannies of Notre-Dame.
Credit: Mathieu MESSAGE
A space of 500 m2
Welcomed within a 500 m2 space equipped with an immersive device, visitors explore the completely digitally recreated cathedral. Different historical events and figures, including Eugene Viollet-le-Duc, are also presented to you. From reproductions or unique pieces of Notre-Dame are also on display at the exit to bring a touch of reality!
A great experience, to live
From 10 years old
, and especially to share until
20 people per session.
Count
30 € per person
to live this adventure, and
20 € reduced rate
! The
reservations
are done online
on their official website.
Reproductions or unique pieces of Notre-Dame are also on display for a touch of reality!
Credit: Mathieu MESSAGE
Report on "Eternal Notre-Dame"
Credit: Mathieu MESSAGE