Jean-Baptiste Goyard joined the franchise All4home. He set up his agency in the 17th arrondissement, in Paris. Discover his testimony.
Melanie Geyer

: You recently joined the All4home franchise. What was your professional background before that?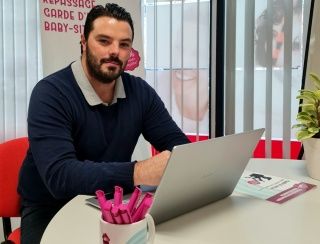 Jean-Baptiste Goyard:
My name is Jean-Baptiste Goyard, I am married and I have two children. I was born in Paris, I lived a year in Milan, 6 months in Madrid, 2 years in Argentina where I was a manager in a pet store. Passionate about sport, especially team sports such as football and rugby, I initially wanted to exercise a managerial profession in sport. I turned to a BTS in management of business units and I worked in the sales sector for a dozen years, including 9 years as Co-responsible/Manager. Today, I have the challenge of setting up my own personal services company.
Why did you choose the personal services sector?
I took a sabbatical year to enjoy the birth of my first child and think about my business project. I have been wanting to create my company in the personal services sector for some time.. Service, health and safety are, in my opinion, the future. Today, all households have used personal services at least once: childcare, babysitting, pet care, cleaning, ironing, and the figures for the sector speak for themselves: 800 000 births per year, strong demand, more than one billion turnover or 1% of GDP. Working in personal services means working in close proximity to employees and customers, which is essential for me and corresponds well to my personality and my interpersonal skills.
Why did you choose All4home to create your personal services business?
I started with an internet search and identified several national networks. I studied their offers and chose All4home to create my business for several reasons: the logo which is very important in the trade, the financial conditions, the quality/price ratio, the size of the network, its human side, accessible with however a significant potential for development and the positive opinions of franchisees, customers and employees. During my integration day, I immediately wanted to join the adventure.
What do you think are the main advantages of All4home compared to the others?
One of the main advantages of All4home compared to other networks is the possibility of developing without taking up premises from the start of our activity., which I find very sensible. This gives us time to develop. I would add as other assets the proximity to the head office team. We are constantly advised and supported. They help in all the steps. I very much appreciate their availability.
After a few weeks, what do you think of the franchisor's support?
The franchisor supported me in all my administrative steps to start my company, which is reassuring, it gives confidence to move forward. My integration went well within the network, they meet all our expectations. What I really appreciate are the weekly team meetings that take place every Monday, this allows us to interact, to discuss all the subjects, the solutions provided… this helps a lot, and it also allows us to establish a cordial relationship with our fellow franchisees.
What are your goals for 2022?
I started in December 2021. My agency already has several clients and I aim to quickly increase my turnover to open my commercial premises no later than October 2022.
What would you say to candidates for the All4home franchise?
The advice I can give to aspiring franchisees is to believe in their project because they will not be alone, they will be accompanied, advised, that we have human resources, high-performance tools that enable us to save time, that this is a buoyant sector with a future. "Welcome to the adventure".
For become a franchisee All4home requires a personal contribution of €10,000. You want to create a company in the Franchise sector for personal services
Is your creative project oriented towards the household ironing sector?
Discover the best franchises identified by the observatory on our page dedicated to household ironing franchisebut also the specialized channels on the page personal service franchise